The main technical parameters:
1. Nominal inner size: 600mm(W)×800mm(D)×850mm(H):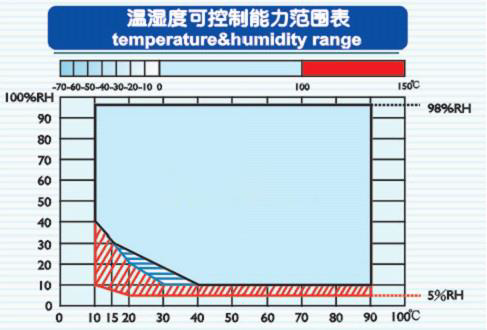 2. Nominal external dimensions: 900mm(W)×1500mm(D)×2180mm(H); (flat top)
3. Temperature range: -40∽90℃;
4. Humidity range: 20%∽98%RH: (see the temperature and humidity range diagram for details)
5. Temperature fluctuation: ≤±2℃
6. Temperature deviation:   ≤±1.5℃
7. Humidity deviation: ±2%RH (humidity>75%RH);
±3%RH (humidity≤75%RH);
8. Resolution accuracy: temperature ±0.01℃, humidity ±0.1%RH;
9. Control accuracy: temperature ±0.3℃, humidity ±1.5%RH;
10. Uniformity in temperature box: ±0.5℃∽±2℃;
11. Heating time: RT∽+90℃ average 3 degrees per minute
12. This equipment cannot be tested or stored with items that contain flammable, explosive or volatile or corrosive gases.
Note: The above indicators are all measured values at room temperature of +25°C and no sample. If you need to place a loaded sample, please refer to the requirements.